FOR IMMEDIATE RELEASE
UNION EMERGENCY MEDICAL UNIT ANNOUNCES END OF A 40 YEAR CAREER
William Van Wert Jr. has admirably served all three EMS agencies in Union Township

UNION TOWNSHIP, NJ – April 25, 2020 – The Union Emergency Medical Unit announces the retirement of William Van Wert Jr. Bill is one of the few members to serve all three Emergency Medical Service (EMS) agencies in Union Township. He began his service to the Township in 1980 as a member of Callmens Emergency Unit where he achieved life member status and attained the rank of Duty Lieutenant. During his time at Callmens he also served our community as a callman for the Union Fire Department and as a member of the Union Police Department Junior Police.
He began his per diem EMS career when he was hired as a per diem EMT by Union EMS in 2000. Bill continued to work as a per diem EMT through the merger of Callmens Emergency Unit and Union EMS in 2003 into Union Emergency Medical Unit. With Union EMU he was promoted to the ranks of Per Diem Lieutenant and Per Diem Captain. Bill concludes his 40 years of service to Union Township as an EMS Supervisor. We wish him the best in a happy and healthy retirement.
William Van Wert Jr. Retirement Announcement:
Union Emergency Medical Unit (Union EMU) provides emergency medical service (EMS) to the residents, visitors, employers, and employees in Union Township and the surrounding communities. Our organization is a 501(c)3 nonprofit charitable organization that is govern by an all-volunteer Board of Directors. Union EMU relies on donations from the public and revenue generated from transporting patients to the hospital to sustain operations.
###
Contact: Capt. David Bialas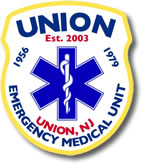 , Union Emergency Medical Unit
Office: 908.687.3373
Direct: 908.280.1491
Email: [email protected]