FOR IMMEDIATE RELEASE
A "NEW" AMBULANCE FOR UNION EMERGENCY MEDICAL UNIT THANKS TO UNION COLLISION
Kenny Barbera made this Memorial Day Weekend special with Cruising for a Cause and donation to Union EMU

UNION TOWNSHIP, NJ – May 26, 2020 – The Union Emergency Medical Unit answers over 5,600 emergency calls a year in the Township of Union and surrounding communities making it one of the busiest EMS agencies in the county. This is an increase of over 500 calls a year over the past five years. With the current housing boom and anticipated added population to the Township the number of 911 calls are expected to grow even more. These added calls result in greater wear and tear on Union EMU's ambulance fleet. Due to the agency's budget constraints, the purchase of a new ambulance was not feasible. Past President, and current Treasurer, Charles Collins stated, "Our revenue is generated from transport billing and donations, no tax dollars, and since the recent recession our donations have decreased while our calls for service increased along with the costs of medical supplies and repairs."
To plan for this challenge President Collins and the Board of Directors tasked Lieutenant Matthew Steitz, the agency's Fleet Maintenance Officer, with finding a solution. Lt. Steitz found Union EMU's solution sitting in the quarters of Summit Volunteer Ambulance Squad thanks to a discussion with Summit EMS Chief Kari Phair, who is also a Per Diem EMT with Union EMU. It was a gently used 2006 Braun Slopeside Longbody Ambulance with less than 50k miles and 6,200 hours that reliably served the City of Summit, but was recently replaced by a new ambulance. In Fall 2019, the membership of Union Emergency Medical Unit approved the purchase of the ambulance and three Ferno 35x stretchers for $15,000.
Many members clocked countless hours stripping, retrofitting, and upgrading the ambulance under the guidance of Lt. Steitz, but one problem remained, it was still adorned with Summit's blue and white paint scheme instead of Union EMU's customary orange, blue, and white. In a conversation during a chance encounter between Lt. Steitz's father, Gary Steitz, a recently retired Captain from Union Fire Department, and Kenny Barbera of Union Collision, Kenny provided a solution. Kenny offered a donation of labor and materials to Union Emergency Medical Unit to paint the ambulance. This in-kind donation was valued at nearly $15k based on the estimates the agency obtained from other body shops. Lt. Steitz worked with Kenny's sons, Michael and Nick, to design, prep, and paint the ambulance in February 2020.
The agency's plan was to debut the ambulance as EMS-7 at the Union County St. Patrick's Day Parade in March, but those plans were derailed by the COVID-19 pandemic that canceled the parade. In response, Union EMU brought the ambulance to Trenton for the New Jersey Office of EMS to inspect and certify in preparation for the pandemic. Unfortunately, it's use was hampered by the immense call volume related to the pandemic and social distancing limitations that prevented in-service training. With Memorial Day on the horizon, the organization reworked its plans to debut EMS-7 at the Memorial Day Parade, but that too was canceled by the pandemic. Enter Kenny Barbera and Union Collision again. With the Memorial Day Parade canceled Union Collision quickly planned and executed a dual route rolling car show called Cruising for a Cause that benefited frontline workers through FLAGofUnion and boosted the morale of Union EMU's members and the community.
Thanks to the efforts of Kenny Barbera and Union Collision the Union Emergency Medical Unit was able to retrofit an ambulance, at a fraction of the cost of a new ambulance, and finally debut the ambulance in preparation to serving Union Township and surrounding communities. In addition to Union Collision, Union EMU would like to thank all of our community supporters who have provided monetary donation, food donations, and in-kind donations during this pandemic and last week's EMS Week. Union Emergency Medical would also like to extend our gratitude to everyone that has called, sent cards, or offered words of encouragement to our members.
Union Emergency Medical Unit (Union EMU) provides emergency medical service (EMS) to the residents, visitors, employers, and employees in Union Township and the surrounding communities. Our organization is a 501(c)3 nonprofit charitable organization that is govern by an all-volunteer Board of Directors. Union EMU relies on donations from the public and revenue generated from transporting patients to the hospital to sustain operations.
Union Collision is a three generation body shop that includes four buildings located at 640 Rahway Ave. Union, NJ. It has been serving customers in Union Township since 1982. It is owned and operated by Kenny Barbera and family.
###
Contact: Capt. David Bialas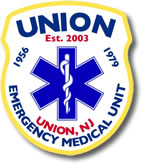 , Union Emergency Medical Unit
Office: 908.687.3373
Direct: 908.280.1491
Email: [email protected]